About Us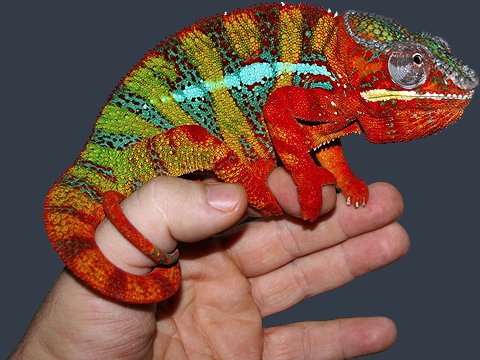 First of all I would like to introduce ourselves. My name is Roy and my good wife is Angie, and as a team we are Krayzee Chamz. We have kept and bred Chameleons for many years now. We have had a passion for Chameleons and lizards from an early age. I was keeping lizards in my very early years. From this time my passion for Chameleons has grown. We are dedicated to our cause. Our moto now is the same as it will always be…we want to breed quality not quantity. We are always learning from our experiences working with the marvels of nature. We have had various breeding successes in recent years. But now we like to concentrate our focus and passion on Furcifer Pardalis or more commonly known as the Panther Chameleon.
Panther chameleons are native to Madagascar, and they come in various guises. These are formally described as localities or locales. We are currently working with Ambilobe, Tamatave, Nosy Faly, Nosy mitsio and Nosy be.
We have the pleasure in offering our young to you, our customers. We strive to work only with the finest animals available to us. We will only include an animal into our breeding colony if we feel it is of the finest quality, colour and strength of genetics. This is to ensure our young being offered will be in turn an animal which will flourish into a prime pet, one you will be proud of. When you buy from Krayzee Chamz you are not only buying an animal of the finest quality, you also join a very exclusive club.
The Krayzee club
Once in our club you will gain our knowledge and a lifetime of support and after care. Any problems no matter how small will be dealt with to the best of our knowledge and ability. We are learning everyday ourselves. It's only from keeping and breeding these marvels that this knowledge is gained.
Our young are nurtured with love, and we will only ever offer an animal which is going to flourish into a happy healthy Chameleon.
SO BUY WITH CONFIDENCE.